THE ELEGANCE (AND THE STRENGTH) OF SIMPLICITY
When asked what a woman should do to be elegant, Coco Chanel replied that, before leaving the house, she should look at herself in the mirror and take off an item of her clothing. The same method used by poets who tell the world by subtraction, by taking away, drying up. Digging into the words to reach the essence, the bone structure of feeling to come to simplicity. Because simplicity is strength, it is elegance.
This is what moves Michel Leo, "20th century archaeologist" (he doesn't like the word "antiquario" - antique dealer- "It sounds out-of-date", he says) and his furniture collection presented for the first time in this event which doesn't really belong to the so called "Fuori Salone" rather representing that side of Milan's design week which is more hidden, less proclaimed, more refined.
This is the idea that gave birth to the furniture that bares Michel's signature and which finally became its aesthetic through a careful and minute hand-crafting process: the image and the content.
Nowadays people tend to fill their homes with unnecessarily creative furniture which has to, at all costs, express a concept and say something that goes way beyond its primary function. Conviction is what pushed Michel Leo to move from being a researcher to designing and producing furniture, somehow following the footsteps of his "colleague" Giovanni Patrini.
"A bookshelf is meant to hold books as long as they sit straight and not crooked. A table is for eating on. A desk is for working." What counts is that they can combine function and elegance, levity and quality, simplicity and detail. They must stimulate the desire to be kept and carried along for a lifetime, home after home, city after city without ever tiring. Without growing old after a few seasons, crushed by their own constructed eccentricity.
This is where the drive - almost a physical need, one could say- to create a collection of parchment covered furniture with a modernist flavour came from - low tables, consoles, dining-tables, desks that combine sheep skin –treated and laid rigorously by hand to allow the skin to maintain the animal's mark, from pores to scars- with iron or wood, hand-worked bit by bit by the expert hands of artisans. Finally matched with essential floor and table lamps, which convey levity and elegance not only to the observer but also to the context in which they are set.
There's no precise inspiration behind Michel Leo's furniture. The unequivocal reference lies within an age, a style, a movement.
The inspiration from which it is born, from which it literally takes form, is its creator's personal history, his over 30 years of work, of experience, of research. The story of someone who has pursued and tracked down the objects of our history in markets – whether it's a bakelite car or Ico Parisi's armchair- and that of who has handled objects ("enough to cover a football field", he says) that have crossed ages, fashions, even wars, all the way to us, and has absorbed them. It's the story of who, again, has seen projects by André Groult and Eric Bagge, the furniture of Frank Lloyd Wright, Mallet-Stevens, Le Corbusier and Jean Michel Frank as well as tables by Mackintosh, chairs by Koloman Moser, hat-stands by Gustave Serrurier-Bovy and has processed them, bringing them back to life today reinterpreted by his own taste, his own sensibility. By his human and professional history.
All of this is present in Michel Leo's parchment furniture, but can't be seen – it can be felt. Because, as a madeleine, it works as a time machine and appears to us as familiar, reassuring, "ours" despite being new and original. It's the essence of what we have read, seen, desired, of what seduces our eyes today without having to dazzle or impress at all costs. Items that convey beauty (and quality) not only to the sight but also, and most importantly, to touch, because "furniture must speak to the sight and to the hands, it must be heard with the eyes and with the fingertips."
Learn more about our Design Furnitures ›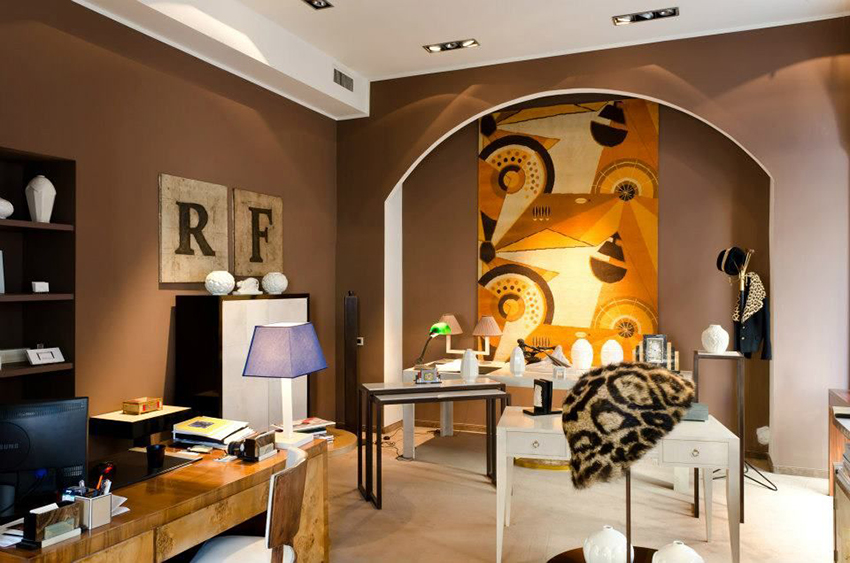 L'ELEGANZA (E LA FORZA) DELLA SEMPLICITA'
A chi le domandava che cosa dovesse fare una donna per essere elegante, Coco Chanel rispondeva guardarsi allo specchio prima di uscire e togliere qualcosa dal proprio abbigliamento. Lo stesso metodo seguito dai poeti, che quando raccontano il mondo procedono per sottrazione, levando, asciugando; scavando nelle parole fino ad arrivare all?essenza, all'ossatura dei sentimenti. Alla semplicità. Perchè la semplicità è forza. La semplicità è eleganza.
E' questo lo spirito che anima gli elementi di arredo della collezione pensata e realizzata da Michel Leo, "archeologo del Novecento" (il termine antiquario non gli piace: "sa di vecchio", dice) qui presentata per la prima volta, in un appuntamento che più che appartenere al cosiddetto Fuori Salone (del mobile) ne rappresenta l'altra faccia, quella nascosta, meno strillata. Più ricercata. Questa l'idea da cui sono nati i pezzi che portano la sua firma e che, attraverso un attento e minuzioso lavoro artigianale, ne è poi diventata l'estetica: l'immagine e il contenuto.
Già, perchè oggi - è la convinzione che ha spinto Michel Leo a passare da ricercatore a disegnatore (e produttore) di mobili (come già fece il "collega" Giovanni Patrini) ? si tende a riempire le case di arredi forzatamente creativi, che devono a tutti i costi esprimere un concetto, dire qualcosa che va al di là persino della loro funzione primaria.
"E invece una libreria è fatta per contenere libri, purchè stiano dritti, e non storti; un tavolo serve per mangiarci sopra; una scrivania per lavorare". E quel che conta è che uniscano funzionalità ed eleganza, leggerezza e qualità, semplicità e cura del dettaglio. Che stimolino il desiderio di portarseli dietro per tutta la vita, casa dopo casa, città dopo città, senza che vengano mai a noia; senza che invecchino dopo qualche stagione, schiacciati dalla loro costruita eccentricità.
Da ciò la spinta - il bisogno fisico, verrebbe da dire - di dare vita a una collezione di mobili in pergamena dal sapore modernista: tavoli bassi, consolle, tavoli da pranzo, scrivanie, che abbinano la pelle di capra - trattata e stesa rigorosamente a mano perchè mantenga visibili i segni dell'animale, dai pori alle cicatrici - a ferro o legno, lavorati pezzo per pezzo dalle mani di esperti artigiani. Cui si abbinano lampade, da terra e da tavolo, dalle linee essenziali, che trasmettono lievità ed eleganza non solo a chi le guarda, ma anche al contesto nel quale sono inserite.
Non c'è un'ispirazione precisa dietro ai mobili di Michel Leo, il riferimento inequivocabile e voluto a un'epoca, a uno stile, a una corrente.
L'ispirazione da cui nascono, da cui letteralmente "prendono forma" è la storia stessa del loro creatore, i suoi oltre 30 anni di lavoro, di esperienza, di ricerca. Di chi ha inseguito e rintracciato in mercati e mercatini gli oggetti della nostra storia ? fossero un'automobile di bachelite o la poltrona di Ico Parisi; di chi ha avuto per le mani oggetti ("Tanti da riempire un campo di calcio") che hanno attraversato le epoche, le mode, persino le guerre, arrivando fino a noi, e li ha assimilati; di chi, ancora, ha visto i progetti di André Groult ed Eric Bagge, i mobili di Frank Lloyd Wright e Mallet-Stevens, di Le Corbusier e Jean Miche Frank, ma anche i tavolini Mackintosh, le sedie di Koloman Moser, gli appendiabiti di Gustave Serrurier-Bovy e li ha metabolizzati, restituendoli oggi a una nuova vita, reinterpretati dal suo gusto, dalla sua sensibilità. Dalla sua storia, di uomo e di professionista.
C'è tutto questo nei mobili di pergamena di Michel Leo, ma non si vede: si sente. Perchè come una madeleine funzionano da macchina del tempo, apparendoci familiari, rassicuranti, "nostri" nonostante siano nuovi e originali. Sono l'essenza di ciò che abbiamo letto, visto, desiderato, che oggi seduce il nostro occhio senza volerlo stupire per forza, senza doverlo impressionare.
Pezzi che trasmettono bellezza (e qualità) non solo alla vista, ma anche, e soprattutto, al tatto, perchè "un mobile deve parlare allo sguardo e alle mani, va sentito con gli occhi e i polpastrelli".